Founded in November 2014, Flashback Theater Co. (FbTC) is quickly becoming known for its high quality programming and commitment to developing the region's performing arts talent. This is accomplished through fully staged productions as well as a series of educational workshops called Let's Play! To date, our nine productions have utilized 43 artists to serve 1,982 audience members and our 30 Let's Play! workshops have served 691 people, including local performing artists, children, and audience members. Flashback Theater Co. operates in Pulaski county but also attracts audience members and artists from the following counties: Wayne, McCreary, Russell, Rockcastle, Casey, and Adair.
Production History

Pirates of Penzance
by Gilbert & Sullivan
June 2019
Directed by Sommer Schoch
Music Direction by Theresa Jean Kibby
Cast Members: Alex George (Frederic), Amanda Balltrip (Mabel), Greg Moore (Major General Stanley), Bradley Gilmore (Pirate King) , Chris Harris (Sergeant of Police), Amber Frangos (Ruth) , Mandy Hieatt (Samuel & Others), Martha Pratt (Kate & Others), Bailey Patterson (Ensemble), Bella Allison (Ensemble), Rick Winstead (Ensemble), Lexie Woodroof (Ensemble/Mabel cover)

Boats Against The Current (World Premiere)
by William H. McCann, Jr.
February-March 2019
Directed by Sommer Schoch
Cast Members: John Neikirk (Harrison), Mandy Hieatt (Daisy), Keifer Adkins (J.R.), Amber Frangos (Eleanor), Steffanie Tucker (Marie), Carol Rogers (Dr.Walton and other)

Miss Bennet: Christmas at Pemberley
by Lauren Gunderson and Margot Melcon
December 2018
Directed by Jade Ellis
Cast Members: Alex George (Mary), Brian Covert (Arthur), Amber Frangos (Lizzy), Brian Simmons (Darcy), Krissy Brant (Jane), Bradley Gilmore (Bingley), Bailey Patterson (Lydia), Martha Pratt (Anne)

Rosies: The Women Who Riveted The Nation (World Premiere)
by Amber Frangos
May 2018
Directed by Sommer Schoch
Cast Members: Krissy Brant (Rose), Alex George (Margie), Theresa Jean Kibby (Kay), Maxine Baughman (Doris), Carol Rogers (Minnie), Livia Keith (Janet), Christopher George (Mr. Thomas), Zaq Butler (Mr. Thomas), Lexie Woodroof (Junior Cast Member), Bailey Patterson (Junior Cast Member), Evelyn Deaton (Junior Cast Member), Bella Allison (Junior Cast Member), Wynter Wilson (Junior Cast Member), Emma Bane (Junior Cast Member)

Little Shop of Horrors
Book by Howard Ashman, Music by Alan Menken
March 2018
Directed by Ron Kidd
Music Direction by Amanda Balltrip
Cast Members: Joey Nortman (Seymour), Lyndsey Jayne Pennington (Audrey), Renate Dopp (Voice of Audrey ll), Brian Covert (Mushnik), Kyle Kadel (Dr. Orin Scrivello, D.D.S. & Others), Alex George (Crystal), Emily Galloway (Ronette), Theresa Jean Kibby (Chiffon)

Around the World in 80 Days
by Mark Brown
February/March 2017
Directed by Sommer Schoch
Cast Members: Brandie Davis (Phileas Fogg), Chris Harris (Det. Fix), Alex George (Passepartout), Merlin Napier (Aouda), Maxine Baughman (Sir Francis and Others)

Every Christmas Story Ever Told (And Then Some!)
by John K. Alvarez, Michael Carleton, James FitzGerald
December 2016
Directed by Sommer Schoch
Cast Members: Jade Ellis (Jade), Sarah Wood (Sarah), Bailey Patterson (Bailey), Alex George (Junior Cast Member), Noble Cunningham (Junior Cast Member)

A Nightmare on Backstreet: A Boy Band Musical Parody
by Ricky W. Glore
October 2016
Directed by Sommer Schoch
Cast Members: Amanda Balltrip (Stacey), Renate Dopp (Teddy), Sarah Wood (Tee), Ethan Penn (Bod), Gregory Blair (Depp), Amber Frangos (Drunk Mother), Alex George (Ensemble), Megan Barnhart (Ensemble)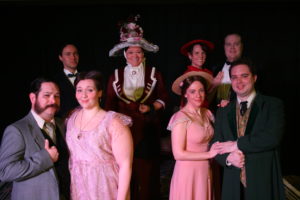 The Importance of Being Earnest by Oscar Wilde
Feburary/March 2016
Directed by Sommer Schoch
Cast Members: Chris Dickens (Jack), Chris Harris (Algernon), Amanda Balltrip (Gwendolyn), Amber Frangos (Lady Bracknell), Sarah Wood (Cecily), John Neikirk (Dr. Chasuble/Lane), John Dennison (Merriman)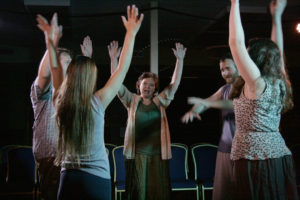 Circle Mirror Transformation by Annie Baker
October 2015
Directed by Sommer Schoch
Cast Members: Amber Frangos (Marty), Gregory Blair (James), James Rose (Schultz), Haylea Barker (Theresa), and Alexa Zajkowski (Lauren)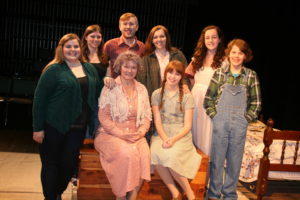 And the Tide Shall Cover the Earth by Norma Cole
August 2015
Directed by Sommer Schoch
Cast Members: Alex George (Geneva), Amber Frangos (Granny), Amanda Balltrip (Mattie), BG Burnette (Dade), Jeremy Cloyd (Understudy for Dade), William Muse (Kendall), Maddie Dudley (Alice), and Amelia Burnette (Betty Lou)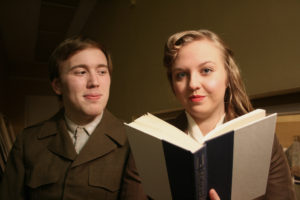 Last Train to Nibroc by Arlene Hutton
February 2015, revived October 2015
Directed by Sommer Schoch
Cast Members: Jeremy Cloyd (Raleigh) and Brenna Murray (May)