Audio, Video, and More!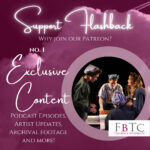 The 2020-21 Digital Season at Flashback Theater consists of:
Online Play Series: 10 minute short plays filmed and hosted on our Patreon page
Local playwrights: submit here
Actors: audition here
Lightning Round Podcast: a monthly podcast featuring Founder Sommer Schoch interviewing Flashback artists
and community guests.
Archives: Currently running one scene per month from our past production of Rosies: The Women Who Riveted the Nation, along with commentary from playwright Amber Frangos.

Subscriptions for Digital and MainStage Content
For $25/month on the Patreon, your season tickets to our summer productions will be taken care of! Two tickets to each summer 2021 production (The Dollmaker and The Lady's Not for Burning) will be included so you and a friend can enjoy in person theater as soon as we are allowed to have you back in our space!
Learn more at our Patreon page: www.patreon.com/fbtheater