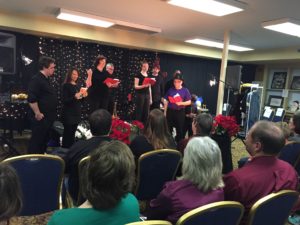 Flashback Theater (FbTC) is seeking actors for the upcoming productions Around the World in 80 Days and Hazard County as well as company members for the 2017 cycle of Let's Play! Actors of all backgrounds and experience levels are encouraged to attend.
UPDATE: MAKE UP AUDITIONS TIMES ADDED
Thursday, January 11 at 7:00 p.m. (All casting)
Saturday, January 14 at 7:00 p.m. (Let's Play! casting ONLY)
Audition dates & location:
Thursday, January 5th at 7:00 p.m.
Saturday, January 7th at 11:00 a.m.
107 N. Main St. Somerset, Kentucky
Actors only need to attend one of the audition dates. All roles will be considered on both dates.
Casting Opportunities:
Around the World in 80 Days by Mark Brown
PHILEAS FOGG – 50s-60s, an exacting man who lives life on a predetermined schedule.
JEAN PASSEPARTOUT – 30s-40s, the new valet for Phileas Fogg. He is French.
4 ENSEMBLE ACTORS – 18-50s, men and women. Other actors will be needed to play various roles including: Detective Fix, Aouda, James Forster, and other various ensemble characters on their trip around the world. We are looking for actors who can change their physicality and vocal presence to portray numerous characters.
Performances: February 24, 25, 26 and March 3, 4, 5, 2017
Rehearsals: Beginning January 23, 2017. Weekday evenings with weekends off. Conflicts given at audition will be honored if cast.
Compensation: Stipends will be provided to actors to help cover the costs associated with attending rehearsals and performances.
Hazard County by Allison Moore
BLAKE – 30-35, Television producer from Los Angeles. Minority background preferred.
QUINN & QUINTIN – Ruth's twins (boy and girl). Looking for actors ages 18-25 that appear younger. These actors will also double for character monologues representing various opinions on The Dukes of Hazzard.
Performances: April 21, 22, 23, 28, 29, and 30, 2017
Rehearsals: Beginning mid March. Flexibility regarding time of day (dependent on cast availability). Please bring your conflicts to audition.
Compensation: Stipends will be provided to actors to help cover the costs associated with attending rehearsals and performances.
2017 Let's Play! Acting Company
As a member of the Let's Play! Company, you will be part of the core performance group at our monthly workshop. Company members are required to attend at least seven of the ten scheduled Second Saturday workshops in 2017. These members will have the opportunity to perform with each other on a regular basis over the course of the year, and will be responsible for creating an encouraging learning environment for new performers that attend Let's Play! There will be opportunities to lead workshops, and get a hands-on experience in improv and ensemble work. Company members will also get first choice to participate in special projects and events that come up throughout the year (such as the development of new work or one night only events). Seven members will be chosen for the company through January's audition process.
Let's Play! is intended to further the skills and techniques of our local theater artists while introducing the community to basic performing concepts through theater education and hands on activity. Our company of actors makes Let's Play! new and exciting each month.
Workshop Dates: The 2017 scheduled dates for Let's Play! are: January 14th, February 11th, April 8th, June 11th, July 8th, August 12th, September 9th, October 14th, November 11th, and December 9th.
Compensation: Company members will receive complimentary and discounted tickets and training throughout the year.
What to prepare:
60-90 second monologue
Be ready to do a few cold readings from scripts as well as some improv and warm up games.
Headshot & Performance resume (if available)
What to expect: 
We will begin with warm up exercises and improv games. Cold readings will be assigned after warm ups so actors may review them during monologues if they choose. We will see readings at the end. The entire audition process will take about an hour, depending on the number of actors auditioning.
What to wear:
Avoid clothing that might distract us from focusing on your performance and you. You will be expected to move a bit, especially in the warm up and improv part of the audition so please wear something you will be comfortable enough to move in.
Contact:
Sommer Schoch
(888) 394-3282, ext. 0
sommer@flashbacktheater.co