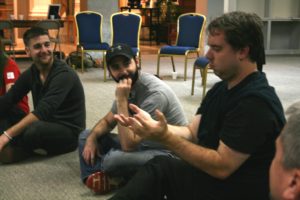 The Let's Play! Workshop series is back again with a favorite theme of our company actors, Storytelling. In order to be a good performer, one must be able to tell a good story. Join our company of actors who will be playing story-based improv games, as well as acting out favorite stories. Participants are encouraged to bring favorite children's books, or select their favorite parts of longer stories. This Let's Play Workshop will be led by Chris Harris, who will be appearing in Somerset Community College's production of Radio Suspense Theatre: The Next Episode, later this month. Let's Play! events are free and open to the public. Come tell us your story!
Details
November 12, 2016 at 7:00 p.m.| 
Carnegie Community Arts Center | Free fun for all ages!