This October, Flashback Theater will be exploring how many ways an actor can "play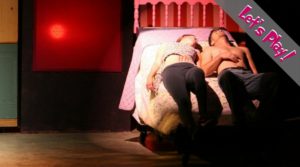 dead" at Let's Play! Death on Stage. A part of Flashback Theater's free Let's Play! Second Saturday series, this month's workshop will be held on October 14th at 7:00 p.m. in the basement at Station 211. To fit the month's seasonal theme, participants will be playing theater games in which actors dramatically and comedically play out dying scenes. 
Death on Stage will be led by Let's Play! company member Noble Cunningham. This year is Noble's second year as a member of the company, but you might also recognize him as a junior cast member from last season's production of Every Christmas Story Ever Told (And Then Some!).
"When this workshop was brought up, I really wanted to lead it, because I've never exactly noticed it myself, but I've been told I'm good at dying on stage," says Cunningham. This is his first time leading a Let's Play! workshop, but he is eager to share his talent with other performers.
For a workshop based around death, you might expect for things to be all gloom and doom. However, all of the improvisational games will be played with a lighthearted tone. "It might be weird to call death fun, but I think death scenes are fun because they are usually the climax of the production. " says Cunningham. 
The actors will be playing for the laughs, often trying to find the most ridiculous scenario in which to over-dramatically fake their own death.  "We're doing a darker topic than the other Let's Play! workshops we've done in the past. But in doing a heavier topic I still want to make it fun for our audience," Cunningham adds. 
Theater newbies and theater veterans are encouraged to join this event. Part of Flashback Theater's vision is to give local talent the opportunity to get on stage. Let's Play! is our free monthly event that is open to any and all performing artists, theater lovers, and audience members. Let's Play! is dedicated to providing an open, low-pressure environment.
Flashback Theater is grateful to season sponsor, Applied Behavorial Advancements, LLC for their ongoing support, as well as to Station 211 for their gracious hosting of Let's Play! Additionally, the Kentucky Arts Council, the state arts agency, provides operating support to Flashback Theater Co. with state tax dollars and federal funding from the National Endowment for the Arts.
Location:
Station 211
211 S Main St
Somerset, KY 42501
Date and Time:
October 14th at 7:00 p.m.
Cost:
Free admission | Donations accepted at the door