Flashback Theater has space that is available for companies, groups, and community members to rent for their own events. If you are interested in renting the space for your upcoming event, check out our Event Rentals page. The events at Flashback Theater listed below are not presented by FbTC so if you have questions, please click on "Learn More" under the event you are interested in for information directly from the group presenting the event. If you are looking for our plays and productions, click here.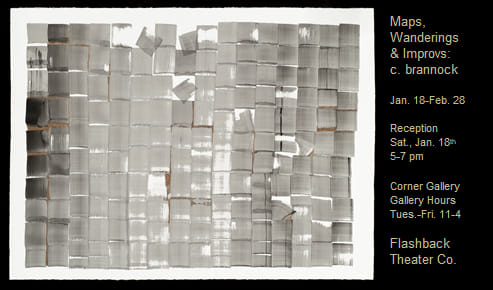 Maps, Wanderings and Improvs
an exhibition by Chris Brannock
January 21 – February 28, 2020
Tuesdays through Fridays 11:00 a.m. – 4:00 p.m. and during performances
Corner Gallery at Flashback Theater Co.
The Artist Suites at Flashback Theater Co. (FbTC) will be hosting a solo exhibition by Chris Brannock this January and February. The show, titled Maps, Wanderings and Improvs, features abstract works produced with pen, ink, pencil, and the Japanese-style paper marbling known as Suminagashi. Brannock, who currently serves as Priest for St. Patrick's Episcopal Church in downtown Somerset, explores three different styles within this show. Guest will experience Brannock's earlier works and well as her most recent. The opening reception will be held Saturday, January 18th from 5:00pm – 7:00pm. The Corner Gallery will otherwise be open during regular box office hours from January 21st through February 28th. Maps, Wanderings and Improvs is paired with FbTC's production of Rosencrantz and Guildenstern are Dead, opening February 6th.