The Let's Play! Second Saturday series at Flashback Theater Co. will continue this May  with an evening of fantasy-themed improv games. The Let's Play! Second Saturday Host, Brian Herrmann, will lead the participants in exploring the caverns of performing arts and unlocking the vault of improvisation, all within the realm of Flashback Theater's Black Box.  The event will take place on May 11th at 7:00 p.m. at Flashback Theater. Audience members of all ages and experience levels are invited. The event is free to attend.
Brian Herrmann, the Second Saturday Host, chose this month's theme. His passion for dragon slaying and armor will be shared with the community at this month's workshop. " It's something near and dear to me," he says. "It is the first improv workshop I'm hosting as part of the Let's Play! Company, I view it as a sort of…well, introduction!"
Including fantasy themed activities educates the participants and audience while addressing familiar topics. Fantasy has always been a part of our lives. Whether we realize it or not, we have all pretended to be something we're not at one point in our lives. Pretending allows us to use our imagination to escape reality. "Fantasy is all about imagining things that aren't real, and really flexing that creativity," says Herrmann. Playing pretend is the basis of theater, and improv games are the perfect opportunities to build those creative muscles.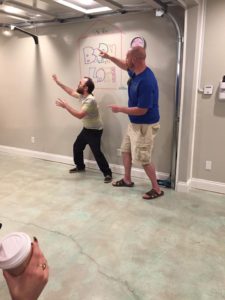 Improv games are fast-paced; though they lack a script and other theatrical elements, they are wholly entertaining to watch and play. Flashback Theater encourages audience members to attend this unique experience, welcoming them to watch or, if they feel so inclined, participate. People who have attended Let's Play! events before may be familiar with the concept, but those who are newcomers will have no pressure; the members of the company will help the participants understand the tasks and ensure a stress-free experience.
The Second Saturday workshops are a key aspect of the Let's Play! Company. They have a relaxed atmosphere, with no strain being placed on the participants; the goal is not to have a perfect performance, but to have fun and learn from the experience, and from one another. The fantasy theme will be recognizable to the members of the community, so the games will be easier to understand. By educating the community about theater, the arts will be expanded and bonds will form with audience members and performers.
Audience members of Flashback's mainstage productions may recognize some Let's Play! actors. Second Saturdays are a great opportunity to get to know these actors on a more personal level. Flashback Theater prides itself on its use of local talent. All of FbTC's actors are not only talented performers but involved community members. They are eager at any opportunity to welcome new faces into the group. Everyone is welcome in the theater!

The theme of fantasy has always been in our lives. This month's workshop will enhance the comprehension of this theme with fun improvisation games for all ages. Flashback Theater encourages everyone to play pretend and learn about the arts at this month's Second Saturday Workshop.
Flashback Theater is grateful to season sponsor, Applied Behavioral Advancements, LLC for their ongoing support. Additionally, the Kentucky Arts Council, the state arts agency, provides operating support to Flashback Theater Co. with state tax dollars and federal funding from the National Endowment for the Arts. Additional support also comes from Kentucky Tourism, M&W Printing, and Lumber King Building Supplies.
Location:

Black Box at Flashback Theater
400 East Mount Vernon St.
Somerset, KY 42501
Date and Time:

May 11th at 7:00 p.m.
Cost:
Free admission | Donations accepted at the door