The Artist Suites at Flashback Theater Co. (FbTC) will be hosting a debut solo exhibition by  Carla VanWinkle this May and June. The show, titled Freedom, features whimsical sea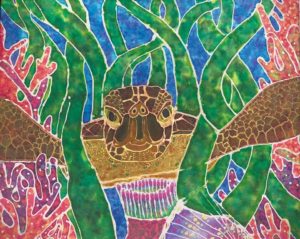 creatures and pairs perfectly with the final production in FbTC's 2018-19 season, Pirates of Penzance. The exhibit will be open during regular box office hours from May 7th through June 16th in the Corner Gallery at 400 E. Mount Vernon St. Somerset, Kentucky.
Carla VanWinkle has been developing her silk painting style and technique for the past seven years. She has often used her art to express an appreciation for music festivals and other artists, often creating intricate banners to hang in camp at the festivals she attends, sarongs to complement her bright demeanor, and scarves to share her work with others.
Silk painting allows for the artwork to be appreciated in different ways. Some of the pieces will be mounted, able to be hung on the wall like a typical painting, or hung in windows for light to shine through, while others are what VanWinkle calls "wearable art." These pieces are scarves, bandanas, and other items that allow you to carry their whimsy with you wherever you go.
The bright colors and underwater subjects of the exhibit, along with the light weight fluttering and sheerness of the silk, speak to the freedom that a viewer may imagine or reminisce about from memories of vacations or childhood.
Freedom will be on display through the final performance of Pirates of Penzance on June 16 in the neighboring Black Box Theater at Flashback Theater. Pirates audiences will be invited to enjoy the exhibit during intermission, and will appreciate the connection to the central story of the main character's inner conflict of choice between freedom and duty. Single tickets for Pirates of Penzance go on sale May 14.
The light-hearted fun of Pirates will complement the art exhibit and continues FbTC's commitment to programming events that give audiences differing perspectives on a common topic to react to and converse about.
Location:

Corner Gallery at Flashback Theater
400 E Mount Vernon St.
Somerset, Kentucky
Opening Reception:

May 9, 2018 from 5:00 p.m. – 7:30 p.m.
Exhibit Hours:

May 7 – June 16, 2019,
Tuesdays through Fridays 11:00 a.m. – 4:00 p.m. and during Flashback Theater performances and events.
Admission is free to the public during open hours.
Flashback Theater is grateful to leading season sponsor, Applied Behavioral Advancements, LLC for their ongoing support. Additionally, the Kentucky Arts Council, the state arts agency, provides operating support to Flashback Theater Co. with state tax dollars and federal funding from the National Endowment for the Arts. Additional season support also comes from Kentucky Tourism, M&W Printing, and Lumber King Building Supplies.