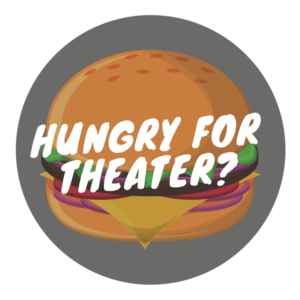 Flashback Theater is holding auditions for 4th annual Season Announcement Cabaret on February 15, 2018 from 4:00 – 6:00 p.m. and February 17, 2018 from 10:00 – 11:30 a.m. This year, the theme is "Hungry for Theater" and the performance will take place on April 14th at 7:00 p.m. at Flashback Theater Co.
The annual event allows actors a chance to choose a short performance piece that relates to the theme to audition with. The performers who are selected to perform will get a private performance coaching with Amanda Balltrip and/or Sommer Schoch, courtesy of McNeil Music Center.  Performers are encouraged to find pieces that reflect their interpretation of the theme, "Hungry for Theater". Auditioned pieces will be considered for inclusion in the Cabaret. Work may be from the theater canon or be original songs, monologues, or scenes. Soloists and group numbers are welcome.
The Cabaret is a part of our Let's Play! series, which encourages local performing talent by providing performing and learning opportunities throughout the year.
What to Expect
Audition with a selection that fits the theme "Hungry for Theater"
If selected, attend a private performance coaching courtesy of MMC
Attend dress rehearsal on April 14th at 10:00 a.m.
Perform on April 14th at 7:00 p.m. at Flashback Theater
What to Prepare for Your Audition
Headshot & Performance Resume
Send Sheet music for audition selection (in PDF format) by Feb. 5th to: DebbyMcD2000@yahoo.com
OR provide your own accompaniment (piano, bluetooth capable speaker and aux cord provided)
Audition Dates and Location
Thursday, February 15th from 4:00 p.m. – 6:00 p.m.
Saturday, February 17th from 10:00 a.m. – 11:30 a.m.
FbTC is committed to non-traditional casting in order to feature all facets of our community's talent. Questions? Call (888) 394-3282.