Improv Olympics is returning to Flashback Theater Co. (FbTC) this summer as part of the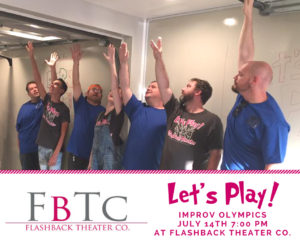 Let's Play! Second Saturday programming. Get your team together now for the event, set for July 14. This competitive event is open to teams from across Kentucky and invites actors of all ages to come together to play theater games in a friendly contest. This year's event will be taking place in the Black Box at FbTC. Orientation is from 3-5 p.m., followed by the public performance at 7 p.m.

Playing improvisation games is a favorite event of Let's Play! Company. Let's Play! workshops give community members the opportunity to watch or get onstage and participate in unscripted scenes and stories. The events are comical and creates a bond between actors and audience members. At Let's Play! Improv Olympics, the same basic structure applies. However, Improv Olympics adds a fun competitive element.
Although there is a competition aspect to this workshop, it is far from the focus of the night. The idea of an "Improv Olympics" came about as a way of bringing together different groups from across Kentucky's theater community and beyond. By offering an opportunity to bring together theater artists and audiences from around the region, we are instilling an atmosphere of friendly collaboration.
Last year, a team from Barn Lot Theater (Edmonton, Kentucky) joined the fun. That participation resulted in a partnership for this year's event: Barn Lot Theater and Flashback will be exchanging teams for sister nights of Improv Olympics. While Flashback will host on the usual Second Saturday, Barn Lot is hosting a night of Olympics the night before. This expands the reach of the event, allowing for actors and audience members from both areas an opportunity to join the fun.
New this year, an Orientation Session will be held from 3:00 p.m. to 5:00 p.m. The session is recommended for people new to improvisation or acting, and for actors wanting to brush up on their skills in advance of the public performance.
Traditionally in Olympics, athletes are awarded medals. At Let's Play! Improv Olympics, theater athletes will have the chance to win team badges and the accompanying bragging rights for each game.         
Let's Play! is dedicated to providing an open, low-pressure environment. Actors of all ages and experience levels are invited to join us for this event. Let's Play! Improv Olympics is a wonderful opportunity to have fun and make lasting connections with our local theatre community and beyond.
Flashback Theater is grateful to season sponsor, Applied Behavioral Advancements, LLC for their ongoing support. Additionally, the Kentucky Arts Council, the state arts agency, provides operating support to Flashback Theater Co. with state funding and federal subsidy from the National Endowment for the Arts.
Location:
The Black Box at Flashback Theater
400 E. Mt. Vernon St.
Somerset, KY 42501
Date and Time:
Saturday, July 14 7:00 p.m.
Orientation 3:00-5:00 p.m.
Cost:
Free admission | Suggested Donation $5