The 2018 season of free Let's Play! workshops begins Saturday, January 13th with Improv Games. Every year, Flashback Theater Co. kicks off Let's Play! with a romp through improvisational games. The workshop will start at 7 p.m. at Flashback Theater Co. located in Old City Hall. This event will also serve as the auditions for the 2018 Let's Play! Company. Applications will be available onsite for those interested in applying.
At the improv games workshop, actors focus on learning new games as well as revisiting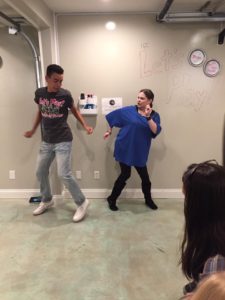 old favorites to become more comfortable with improvisational theater. Playing theater games has been a favorite event of Flashback's audience since our second-ever Let's Play! in January 2015. The events were always hilarious, ending in uproarious laughter from the actors and audience alike. Improvisation games give a loose structure to some unscripted scenario and allow an actor to fill in the rest. They are an important part of acting theory because they build an actor's ability to think on their feet, be spontaneous, and collaborate with their fellow artists. Qualities like these, paired with wild scenarios, are what make improv games an enjoyable, fun form of entertainment. Many of the games and activities will be revisited throughout the year at upcoming workshops. The only thing needed to be able to play these games is a willingness to say "yes, and!"
Let's Play! Improv Games is also a part of the 2018 Let's Play! Company Application process. Applicants are required to fill out an application form and submit an essay about why they would be a good candidate for the Let's Play! company. Attendance at Let's Play! Improv Games is required so that adjudicators have an idea of how the performers work and play together and gives first-time applicants an idea of what a Let's Play! event is like. For those interested in applying, application packets will be available at the event.
As always, Let's Play! strives to provide a fun and open environment at all second Saturday workshops. Theater newbies and theater veterans of all ages are encouraged to participate. All of the games will be taught to the audience and the performers. Games with a competition aspect will begin after a practice round making sure everyone has a clear understanding of the rules.
Let's Play! Improv Games is sure to start this Let's Play! season off with a bang. What better way to start the new year than by gathering the community for an evening of theatrical fun!
Flashback Theater is grateful to season sponsor, Applied Behavorial Advancements, LLC for their ongoing support. Additionally, the Kentucky Arts Council, the state arts agency, provides operating support to Flashback Theater Co. with state tax dollars and federal funding from the National Endowment for the Arts.
Location:
Flashback Theater Co.
Old City Hall
400 E. Mount Vernon St.
Somerset, KY 42501
Date and Time:
Saturday, January 13th at 7:00 p.m.
Cost:
Free admission | Donations accepted at the door