Flashback Theater's Let's Play! Second Saturday workshops will begin for the summer with a topic that will explore how actors use physicality to create characters and tell stories. One tool an actor can use to encourage creative use of the body is the mask. There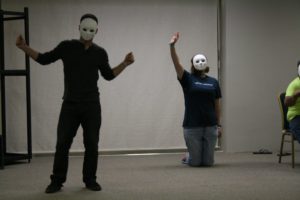 will be opportunity to use different types of masks to tell different types of stories. Let's Play! Masks will take place on Saturday, June 9th at 7:00 p.m. in the Flashback Blackbox.
An actor's main instruments are the face, voice, and body. The use of a mask can limit the actor to just his body and can be viewed as an opportunity to finely develop a specific skill set. We use our bodies to tell the world how we feel everyday, whether we are aware of it or not. If the actor can harness this tool, he can communicate complete stories to the audience. While most theatre is thought of as dialogue driven, there are also styles and plays that rely on physicality. Kabuki is a famous theatrical form that uses masks and physicality but there are also shows like Noises Off that have heavily physical scenes due to the construct of the plot.
Workshop leaders Maxine Baughman and Evelyn Deaton have worked collaboratively to create a workshop that they believe will challenge performers to push their creativity. Each activity builds on the last to present a well rounded experience. While some activities focus on telling internal, human stories, others require the participants to use their imagination to create wild and zany characters. In addition, while many of the activities will focus on self-awareness, many will encourage us to be aware of others. In conversation, we are used to listening to each other. But are we paying attention to the feelings others are reflecting through body language?
Masks are an important piece of the workshop not only because of how they challenge the actor to use their body, but because they can inform the performance. For instance, a mask that features a frown informs us that the character might be sad. It is then up to the actor to decide why the character is sad and how they communicate that. Are they hurt or disappointed? Do they drag their feet, or drop their shoulders? The creative opportunities of such choices will be the focus of the workshop.
As always, the Let's Play! program strives to promote a fun and relaxed atmosphere. Actors of all ages and experience levels are encouraged to participate. All that is needed to enjoy a Let's Play! workshop is a collaborative spirit and a willingness to say "yes!" If you're unsure, or you just want to watch, we encourage your attendance as an audience member. Everyone is welcome in the theater!
Let's Play! Masks is a wonderful opportunity for the performer to develop a specific skill set. Everyone in attendance is sure to leave with a clearer understanding of how we use our body to communicate.
Flashback Theater is grateful to season sponsor, Applied Behavioral Advancements, LLC for their ongoing support. Additionally, the Kentucky Arts Council, the state arts agency, provides operating support to Flashback Theater Co. with state tax dollars and federal funding from the National Endowment for the Arts.
Location:
Black Box at Flashback Theater
400 East Mount Vernon St.
Somerset, KY 42501

Date and Time:
June 9th at 7:00 p.m.
Cost:
Free admission | Donations accepted at the door