T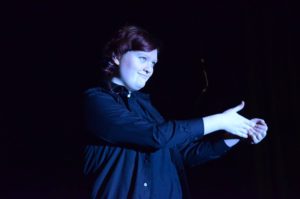 heater for the Deaf is a fast growing form of theater. Flashback Theater is excited to join the conversation at our Second Saturday workshop Let's Play! Theater for the Deaf. The workshop will be held at Station211 at 7:00 p.m on July 8th, 2017. 
While not being a hearing-disabled person herself, workshop leader Jessica Ingram is passionate about the inclusion of deaf people in the community. "Sign language theater is more than just sign language, it's the deaf being able to be apart of something that many others can enjoy." she says," Deaf people are just like you and I, they just can't hear." Jessica has studied ASL for close to eleven years. "Speaking two different languages can definitely be difficult, but I think it gives everyone a challenge. It takes away your ability to hear, and sometimes speak, but replaces it with beautiful movements of the body that can say more than what you mean. A simple wave of the hand can have a million different meanings."
The workshop will include a deaf theater demonstration from the  Let's Play! company. This demonstration will include comparisons of various methods of deaf communication on stage as compared to a traditional theater scene. There will be an opportunity to discuss both the differences and similarities between the two. Jessica will be there to share the history of the practice of deaf theater, as well as answer questions from the participants and audience. There will also be an opportunity for participation in games and exercises focusing on communicating without a dependence on verbal communication. 
Skills learned in this workshop are not only applicable to theater for the deaf. It is easy as a performer to focus too much on only using our voice as a method of communicating. We use our bodies every day to tell the world how we feel, whether we're aware of it or not.  A good performer will tell a story using their whole body through gestures, posture, facial expressions, and movement. Participation in this workshop will expand an actor's physical skill set and enhance their physical awareness.
Let's Play! Theater for the Deaf is part of Flashback Theater's free Second Saturday workshop series, Let's Play! Let's Play! focuses on giving local performing talent the opportunity to learn and perform in a low-pressure environment. Each month, one of the members of our Let's Play! Company chooses a themed workshop to lead to expand the knowledge of our theater community. Let's Play! is open to actors, theater lovers, and audience members of all ages and experience levels. 
Theater for the Deaf is just one of the many diverse styles of theater. The Let's Play! program is ecstatic to bring this new perspective on theater to Somerset. Flashback Theater Co.'s mission is to explore the world, our past, and theater. This workshop is a wonderful opportunity to have fun and see the world through different eyes through the passionate pursuit of theater. 
Location:
Station 211
211 S Main St
Somerset, KY 42501
Date and Time:
Saturday, June 10 at 7:00 p.m.
Cost:
Free admission with a suggested donation of $5-$10.