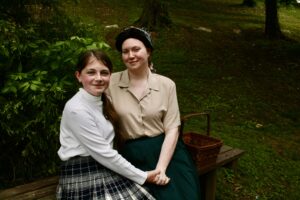 Flashback Theater Co. (FbTC) will open their summer 2021 season of productions with Harriette Simpson Arnow's The Dollmaker, adapted by Betty Peterson, this June 17- 20, 2021 at the Joe Ford Amphitheater in Rocky Hollow Park. As the production will take place at an outdoor venue, Flashback encourages the audience to bring their own seating. Many consider The Dollmaker to be the seminal work of Harriette Simspon Arnow's prolific career as a novelist. Her writing gave her a reputation as an expert on the people of the Southern Appalachian mountains, and the women of The Dollmaker are specifically based on the women Arnow knew in Pulaski County. Those local to the region will recognize the local values in Betty Peterson's adaptation.
The Dollmaker tells the story of Gertie Nevels, a pioneer woman and mother, is forced to uproot her children from the Kentucky hills to follow her husband to Detroit when he finds work during World War II. One setback follows another and a shattering tragedy strikes the family. It's all up to Gertie to find new strength, courage, and determination to keep her family together and strong.
Wanda Fries is a local author and professor of English who also plays Lena in Flashback's production of The Dollmaker. She is well versed in Arnow's history and relation to the region and has contributed to Somerset Community College's annual Arnow Conference for The Humanities. She echoes the belief of many critics that Arnow was an expert on the people of Appalachia: "For years Arnow taught a fiction writing workshop at Hindman Settlement School's Appalachian Writing Workshop and even though she lived in Michigan most of her adult life, all of her work, both fiction and nonfiction, reflected her immersion as a child in rural Appalachia."
While working as a teacher in Pulaski County, Arnow got to know many "back hills women." In a 1983 interview, Arnow clarified that it was a collage of these women that would later serve as inspiration for Gertie. In her own experiences as a teacher, Fries sees many of Gertie's qualities in her female students today: "Having taught for over three decades, like Betty (adaptor of The Dollmaker for the stage), I see Gertie every semester in my classes. In farming families, it has often been the women who must be trained for what, in forties and long after was called around here a "public job." In Gertie's time, women did not leave their husbands very often, and I see many single mothers (and fathers) who are bravely entering a new culture–the academic culture–while they juggle jobs, childcare, aging parents, and their own insecurities about their abilities. Many of them are brilliant, but their choices must be made with the well-being of others in mind. And sadly, I have seen women who instead of being encouraged to get an education have been held back or actively discouraged. I believe deeply in education as empowering, in the way that Gertie believed that owning her own land and home was empowering. "
In Flashback's production, local actor Martha Pratt brings Gertie to life. She has performed in several shows in previous seasons at Flashback: Rosencrantz and Guildenstern are Dead (Claudius), Miss Bennet: Christmas at Pemberley (Anne), Pirates of Penzance (Kate), and projects such as the workshop for Mary: Her Story. "I see a little of myself and a lot of what I would like to be in Gertie," says Pratt, "I have a bit of her attitude in that I am quite stubborn and resist change, but recognize when I need to adapt for the good of those I love and so, begrudgingly, I try to adjust to the situation. I wish I had half the determination she does, whether it's for survival or to spite those that try to stand in my way. " Pratt says she tracks back the "Gertie" attitude, through several of the women in her family, from her little niece to her mother and her sisters, all the way back to her Mammaw Pratt: "Mammaw Pratt was a countrywoman out in eastern Kentucky with a family dynamic similar to the Nevels in the story. I tried to work in some of Mammaw Pratt's dialect into my Gertie. I kind of imagined my Mammaw in the way that Gertie talks."
Through the world of The Dollmaker as constructed through the eyes of Gertie, we begin to see a vision of Pulaski County's cultural history. Though the family must move to Detroit for economic development, Gertie holds strongly to elements of her mountain culture and defends it when it is criticized. Though not a trained artist like Lena, Gertie proves that her skills as a whittler are beyond compare. Fries further reflects on what elements of culture have changed in our region as well as what hasn't: "Subsistence farming has, for the most part, completely disappeared. We are still very much steeped in the religion of Grandma Kendrick. While hand-made arts and crafts are still valued and important, for the most part they are produced as art someone like Lena would recognize, not for what writer Alice Walker called "everyday use."
Wanda Fries was a colleague as well as a dear friend of playwright Betty Peterson. She has had the privilege of seeing the play's legacy in the community over the years. Fries shares a memory of the play's World Premiere at the Arnow Conference: "It was powerful and moving. Thomas Arnow, Harriette's son, told Betty afterward, "Mother would have been pleased." She points to how the play speaks to the legacy of Peterson as an artist: "Peterson's death last year was a great loss, not only to those who loved her and the thousands of students she taught and inspired and loved. But we also lost the work she still might have written and sent out to be read and performed. Had she not sent The Dollmaker to Flashback, no one might ever have seen it again. Arnow's story fits perfectly into the themes that exercised Betty Peterson's imagination. "
Betty Peterson was a professor of English at Somerset Community College, and an established local playwright. Her adaptation of The Dollmaker was commissioned by Somerset Community College with funding from the National Endowment for the Arts, and first premiered in 2003 at the Harriette Simpson Arnow Conference held on SCC's campus. Her other dramatic works include Pieces of String (performed Off-Broadway in NYC Dramatists Guild Performance of Shh! Led by the Kentucky Women's Playwrights Seminar Collaboration), Desert Flower (World Premiere produced at Horse Cave Theatre/Kentucky Repertory Theatre), River Dreams, The Good Daughter, and Real Daddy. Her earlier prose, fiction, and poetry has appeared in regional and national journals. Betty was a valued member of the Somerset theater community, and though she is dearly missed by her artistic peers, her voice lives on in her writing. Flashback is honored to share Betty Peterson's voice with the community through their production of The Dollmaker.
Actor Martha Pratt also expressed a deep respect for Peterson's work as an adaptor. "I thought I knew what to expect because I had read portions of the novel and knew the overall plot, but reading Betty Peterson's adaptation blew me away." says Pratt. "The writing style confused me at first, but once I recognized what she was going for, I got really excited. The ebb and flow of emotion, the intensity of what Gertie feels in every moment, it's the type of acting I live for. After meeting the rest of the cast, I got goosebumps. Everything felt so right. The table read all but solidified that The Dollmaker will be one of my favorite shows."
Fries speaks of Peterson and her life with great respect: "A Liberty girl–Seventeen magazine published one of her short stories of that title–and a self-described Casey County ridge runner, Betty was able to brilliantly adapt the work because she herself grew up steeped in the same culture as Arnow. She went briefly to Berea, married in high school to a man who made his living "tinkering" with cars as a mechanic (and she never regretted it–she and her beloved Danny had been married 56 years when she died). They had four children before she went back to college to be a nurse. But always having been in love with language and story, she found instead her true calling. From SCC, she went to the University of Kentucky, finishing both her bachelor's and her master's degrees in English. For her, like Gertie, having a creative life involved the juggling of responsibilities. And perhaps, at the last, maybe that is what Arnow's story is about. Is the face in the wood that of Judas or of Christ? Do we betray our art when we forgo the making of it to be more fully present to those we love? It is the old question from the garden: an awareness of good and evil is the beginning of conflict, for what is right and what is wrong? And how can we adjust to the demands of living among others without losing ourselves in the process?"
From Arnow and Peterson, to Fries and Pratt, Flashback's production of The Dollmaker is a collaboration of female voices celebrating what it means to be a Pulaski County woman. We all have a part of ourselves that is Gertie: strong, determined, caring, talented, and dedicated to the pursuit of a better future. Flashback Theater is honored to continue the tradition of The Dollmaker in Somerset. Buy your tickets now to enjoy Flashback Theater's production of Hariette Simpson Arnow's The Dollmaker, adapted by Betty Peterson, running June 17-20, 2021.
Flashback is grateful to the City of Somerset for their sponsorship of the event, which allows Flashback to utilize the Joe Ford Amphitheater in Rocky Hollow Park. Audience members are encouraged to bring camp chairs, blankets, or other forms of seating to accommodate themselves at this outdoor event. A shuttle will be available to the Amphitheater from the parking lot next to the Central Ave Park Entrance beginning one hour prior to the performance and immediately following the performance. Restrooms will be available on-site during performances. Patrons may bring in food and non-alcoholic beverages but should respect the property and clean up after themselves at the end of the night. Concessions will not be offered by Flashback Theater Co.
Artist sponsors for this production include David Daring Rentals, Prairie Farms, Lake Cumberland Regional Hospital, First Southern National Bank, and Lake Cumberland Tourism.
Design sponsors for this production include Somerset-Pulaski County Chamber of Commerce, Dr. Mark and Cynthia Henry, SPEDA (Somerset-Pulaski Economic Development Authority), Don Franklin Somerset Family of Dealerships, Watershed Arts Alliance, and Chuck and Allison Sobieck.
Flashback Theater is grateful to season sponsors, Applied Behavioral Advancements, LLC , The City of Somerset, M&W Printing, United Cumberland Bank, and Lake Cumberland Regional Hospital for their ongoing support. Additionally, the Kentucky Arts Council, the state arts agency, provides operating support to Flashback Theater Co. with state tax dollars and federal funding from the National Endowment for the Arts. Additional support comes from Kentucky Tourism.
Location:
Joe Ford Amphitheatre (bring your own seating) Rocky Hollow Park
Somerset, Kentucky
*A shuttle will be available to the Amphitheater from the parking lot next to the Central Ave Park Entrance beginning one hour prior to the performance and immediately following the performance. *Restrooms will be available on-site during performances.
*Patrons may bring in food and non-alcoholic beverages but should respect the property and clean up after themselves at the end of the night. Concessions will not be offered by Flashback Theater Co.
Tickets:
Adults – $18 Advance, $20 Door
Students – $12 Advance, $15 Door
*Plus applicable taxes and fees.
Patreon subscribers can make reservations beginning May 1, 2021.
Dates and Times:
Thursday, June 17 at 7:30 p.m.
Friday, June 18 at 7:30 p.m.
Saturday, June 19 at 7:30 p.m.
Sunday, June 20 at 2:30 p.m.
*Note: previously, this production was scheduled to run through June 27. Due to casting conflicts, we have removed the second weekend of performances.