With a night of freaky costumes and parties around the corner, people who are easily frightened may think that there's no way out. However, the Let's Play! Company at Flashback Theater and Second Saturday Host Brian Hermann have the perfect remedy for those jitters: improv games. The Let's Play! Company will have their October Second Saturday workshop this Saturday, October 12, at 7:00 p.m. All ages and experience levels are invited. The event is free to attend, but donations are accepted at the door. 
The monthly Second Saturday workshops continue to be a mainstay of the Let's Play! Company. The main goal of the workshops is to bring theater to the community in a fun, unexacting manner. Company members and community members alike come to Flashback to play improv games and learn about theater. The evening will allow community members to explore different worlds, build creative muscles, and form bonds with others. 
Like August's Second Saturday workshop, this month's event also has a theme. October is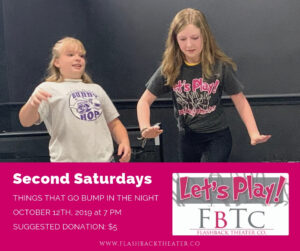 a month of creepiness and haunting delights, along with creative costumes and treats. The Company is including all of these hair-raising, familiar elements into this month's event. Although these features may seem frightening to some, the relaxed atmosphere of improv games will overpower the creepy undertones. 
Improv games are unpredictable due to their fast pace and lack of direction or scripts. The audience members and participants can choose a theme for a scene with the only limit being their imagination. Those who have never experienced improv games may be unfamiliar with the concept. However, Hermann and the other Company members will guide the participants through each game to guarantee a stress free experience. 
The spookiness of this month's holiday is familiar to all of us. The tricks and treats are exciting and possibly frightening to many. The adrenaline felt during this special occasion will be felt and incorporated into this month's Second Saturday workshop. People who have left the Zombie Walk are welcome to join the fun; ending the night with improv games is perfect for relaxing after a day filled with the undead. Flashback Theater encourages everyone to come and bring out their festive side. 
The Let's Play! Second Saturday workshops have been an important part of the Let's Play! Company ever since its founding.This month's theme allows the concept of improvisation to be easily understood. The goal is not to give a perfect performance, but to learn about theater and form bonds with local talent and community members. People of all ages and backgrounds can come together to learn and have fun. Because of these bonds, the community becomes stronger and more diverse. 
Audience members of Flashback's mainstage productions may recognize some Let's Play! actors. Second Saturdays are a great opportunity to get to know these actors on a more personal level. Flashback Theater prides itself on its use of local talent. All of FbTC's actors are not only talented performers but involved community members. They are eager at any opportunity to welcome new faces into the group. Everyone is welcome in the theater!
Flashback Theater is grateful to season sponsors, Applied Behavioral Advancements, LLC and M&W Printing for their ongoing support. Additionally, the Kentucky Arts Council, the state arts agency, provides operating support to Flashback Theater Co. with state tax dollars and federal funding from the National Endowment for the Arts, and marketing support comes from Kentucky Tourism.
Location:
Black Box at Flashback Theater
400 East Mount Vernon St.
Somerset, KY 42501
Date and Time:
Saturday, October 12th at 7:00 p.m.
Cost:
Free admission | Donations accepted at the door