Have you ever wondered just how a theatrical performance goes from script to stage? How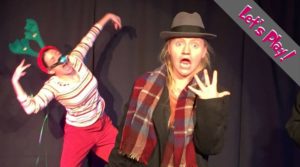 does a show go from a first read, to staging, to dress rehearsals, to a full production? Flashback Theater Co. invites you to explore the answers at Let's Play! Open Rehearsal. At this event, the Let's Play! Company will be having their first rehearsal for December's performance at the annual McNeil Music Center Winter Showcase. This fast-paced version of a typical rehearsal process will take place on Saturday, November 11th at 7:00 p.m. in the basement of Station211. 
In years past, FbTC's Let's Play! Company would perform a reader's theater version of A Seussified Christmas Carol at the Showcase. But this year, audiences can expect shorter, original SNL-style sketches interspersed throughout the evening of music. To top it off, local playwright and Let's Play! Company member Chris Harris has written the four short skits for the Company to perform. Each skit will take on different wacky characters in a whimsical winter setting. These characters will be portrayed by members of the Let's Play! Company, with some even taking on multiple roles in different scenes.
Because Let's Play! Open Rehearsal is the first rehearsal of the skits, the Company will start with a first read. This gives the actors an opportunity to get a feel for a scene before putting it on it's feet. The next step of a traditional rehearsal process is to add staging. Directors will step in to give the actors blocking instructions. The actors will run through the scene a few times before moving on to the next scene on the agenda. The night will conclude with a run-through of all the scenes in order. This process gives audience members the chance to see a rehearsal process from start to (almost) finish in one evening.
Though the roles in the scenes will be pre-cast, audience members are invited to come to the event to watch the scenes come to life. This is your chance to experience what is normally a closed process for the cast and crew's eyes only. While this workshop is not an exact model of the typical rehearsal process at Flashback Theater, audience members are encouraged to come ready to ask their questions about how we normally rehearse a show. Let's Play! Open Rehearsal is a great opportunity for community members to learn all about the hard work that Flashback Theater Co. puts into productions year-round.
Flashback Theater is grateful to season sponsor, Applied Behavioral Advancements, LLC for their ongoing support, as well as to Station 211 for their gracious hosting of Let's Play! Additionally, the Kentucky Arts Council, the state arts agency, provides operating support to Flashback Theater Co. with state tax dollars and federal funding from the National Endowment for the Arts.
Location:
Station 211
211 S Main St
Somerset, KY 42501
Date and Time:
November 11th at 7:00 p.m.
Cost: 
Free admission | Donations accepted at the door