Flashback Theater is excited to present Let's Play! Playwright's Choice on Saturday, February 10th. Playwright's Choice is one of Flashback Theater's favorite recurring events. It gives local playwrights a chance to see their work read on stage by actors, and receive feedback from audience and directors. The workshop will be held at Flashback Theater, located at 400 E. Mount Vernon Street, on February 10th at 7:00 p.m.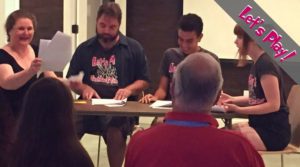 This is Flashback Theater's third time holding a workshop for playwrights to see their work read. While the focus of the night is on the playwrights, they aren't the only ones who will get a chance to participate. This theme is successful because it's structure benefits all types of theater talent. Actors have the chance to read scenes, directors can stage these scenes, and the audience has a chance to have a sneak peak of in-progress works.
For the workshop's leader, Sommer Schoch, Playwright's Choice fulfills an important part of Let's Play's mission. "Let's Play! is about providing a space for all theater artists to create and grow." says Schoch, who is the Producing Artistic Director of Flashback Theater. "Playwrights are often left out of the production process entirely. This is a chance for them to be involved in the rehearsal process, albeit a short piece, and get feedback from a director, actors, and audience."
Flashback's playwright-in-residence, Amber Frangos, says that she's gained a lot from the workshop in the past. "I was able to see my characters come to life in a specific setting. After seeing this I was presented with immediate feedback." Though some might find feedback intimidating, Frangos embraces it wholeheartedly, "I can't stress enough how important this is for a playwright to take in feedback, digest it, then deal with it, either use it, save it or throw it away. The importance is to not dismiss a suggestion right away. I've used suggestions that didn't fit in the scene we were working, but were useful elsewhere in the play."
Playwrights who are interested in attending should bring copies of a drafted script with them to the event. There should be a script for every character in the scene, along with two extra copies for the director and playwright. As always, Let's Play! encourages theatre artists of all ages and experience levels to participate. Actors, directors, and audience members interested in the event need only show up. By the end of the night, everyone should have had a chance to participate and collaborate.
Let's Play! Playwright's Choice is an exciting opportunity for theater artists to focus on the art of creating a fully fleshed-out story. The night is sure to be full of fun, exciting collaborations. In closing, workshop-leader Schoch states, "Audiences who come to this workshop will get to preview some of the newest works by local playwrights, and who knows? Perhaps one of them will be in our next season."
Flashback Theater is grateful to season sponsor, Applied Behavioral Advancements, LLC for their ongoing support. Additionally, the Kentucky Arts Council, the state arts agency, provides operating support to Flashback Theater Co. with state tax dollars and federal funding from the National Endowment for the Arts.
Location:
The Corner Gallery at Flashback Theater
400 East Mount Vernon St.
Somerset, KY 42501
Date and Time:
February 10th at 7:00 p.m.
Cost:
Free admission | Donations accepted at the door