Flashback Theater will feature local playwrights in a series of Local Shorts to be featured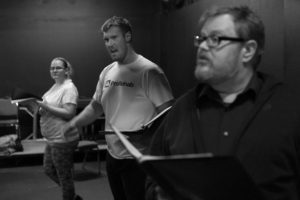 alongside Flashback's fall one-act production. This will serve as an opportunity for new and seasoned playwrights to take their work from paper to the stage. The production will consist of several short plays, and will be performed September 12th-22nd in Flashback's versatile Black Box performance space. Each play to be performed will be no more than twenty minutes, and both comedies and dramas are accepted. The final date for submission will be Saturday, June 8th.
Local Shorts is an important project because Flashback is dedicated to amplifying a uniquely Somerset voice, the unique perspective possessed by artists right here at home. As per Flashback's mission statement, we are interested in exploring our present relationship to the world through the lens of our past interactions as a community and through the passionate pursuit of theater that speaks to the soul. The Local Shorts is the next step in the journey to accomplish this. Over the course of Flashback's history, it has produced the world premiere of two plays by local artists: Rosies: the Women who Riveted the Nation by Amber Frangos, and Boats Against the Current by William H. McCann, Jr.
Requirements for Submission:
Plays must be original and property of the playwright

Plays should be no more than about 20 minutes in length

Plays should be free of overly explicit content


Plays must be the work of a local author from Somerset, Kentucky and surrounding areas.

Plays should be written in a neat, standard play format

Dramas and Comedies accepted


Consider that performance space is limited

No musicals please
Judges will be looking for:

Neatness and Organization of Format

Compelling Story

Original Message

Character Development


Somerset Tie-in (local story, values, or voice of local playwright)
How to Submit:
Send a copy of your play (pdf preferred) along with a cover page consisting of the title of your work and all your contact information (Name, Physical Address, Email, Phone Number), any agent or licensing information, and previous production history to submissions@flashbacktheater.co by Saturday, June 8th.
Submission Information:
Submissions will be read and reviewed by Flashback's artistic team

No written feedback will be provided

Early submissions are strongly encouraged

No fee for submission

Deadline for submission is Saturday, June 8th.
If your play is selected, we are offering a 50 dollar stipend for the up to 8 performances of your play!
2-4 short plays will be selected by Flashback Theater for the September 2019 production  and the chosen playwrights will be notified by July 5th. If you have any questions, feel free to contact Bailey Patterson, the New Play Development Coordinator at bailey@flashbacktheater.co.
We look forward to reading your work!