This upcoming Second Saturday, Flashback Theater's Let's Play! Company will present their annual showcase. This year, the event will feature a collection of fairy tales, each presented with a slight twist but with heartfelt, family-friendly messages at their core. The event will be held in the Black Box Theater on December 8 at 7:00 p.m. The event is free,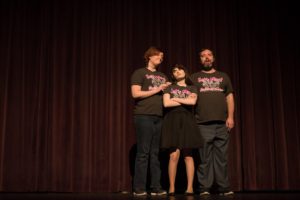 though a donation of $5-10 is recommended. Consisting of three skits, the production represents a year of work, growth, and learning for Let's Play! Company members, who will not only display their acting abilities, but the technical skills they've gained from mentorships in playwriting, marketing, and stage management.  
"I've learned what it's like to manage people," says company member Lexie Woodroof, a stage management mentee. "I have always been a performer, so it was good for me to see another perspective." "I was impressed with the level of professionalism," adds playwriting mentor Amber Frangos. "When I contacted my mentees they responded in a timely manner, and when I suggested revisions, they were compiled in a timely manner. I was also impressed with the quality and content of their work. I am very proud of my group."         
The three pieces were written by Bella Allison, Chris Harris, and Bailey Patterson, and includes their spins on the classic fairy tales Cinderella, The Ugly Duckling, and Goldilocks and The Three Bears. Each was written with a specific message in mind, chiefly, the importance of kindness to our fellow man (or, in Patterson's case, fowl).  "My intent was to send positivity to anyone who has ever been bullied or discriminated against." Patterson specifies, of her take on The Ugly Duckling. "I hope it can put a smile on the audience's face. Maybe the message can reinforce the hope that good things can happen, and that their voice matters."
The Showcase is sure to be a wonderful example of the wide array of skills the Let's Play! Company has to offer the community. This year, the company truly went above and beyond and shared not only their talent, but their heart. Join us at the Second Saturday Showcase to have your heart warmed by theater.
Flashback Theater is grateful to season sponsor, Applied Behavioral Advancements, LLC for their ongoing support. Additionally, the Kentucky Arts Council, the state arts agency, provides operating support to Flashback Theater Co. with state tax dollars and federal funding from the National Endowment for the Arts. Additional support also comes from Kentucky Tourism, M&W Printing, and Lumber King Building Supplies.
Location:
Black Box at Flashback Theater 400 East Mount Vernon St. Somerset, KY 42501
Date and Time:
December 8th at 7:00 p.m.
Cost:
Free admission | Donations accepted at the door