This summer, theater performers can enhance their skills in three technique areas. Masterclasses offered with Flashback Theater Co. include The Business of Auditioning, Vocal Techniques for Musical Theater, and Dance Techniques for Musical Theater. Each class features one to two guest artists, with their comprehensive experience including regional and national credits.
A masterclass is usually five to seven hours of dedicated focus on a specific skill set. For this series, each course helps to prep a theater artist for auditioning for a musical. First, performers will focus on preparing their headshot and resume, as well as get some pointers on monologues, in The Business of Auditioning. Then a weeklong intensive, Dance Techniques for Musical Theater, gives participants valuable experience and tips when attending a dance call for musical auditions. Finally, Vocal Techniques for Musical Theater is a daylong workshop on how to apply vocal techniques to working in an ensemble or as character in a musical. Each class is priced at $70 and has a limited number of seats available.
Performers will be better prepared for the realities of auditioning for professional productions following any of the masterclasses. And while each masterclass stands alone, the series can be taken together as a package for a triple threat. The package price for all three is $175, a $35 discount.
Guest artists invited to teach the masterclasses will be able to effectively prepare performers because they have each worked in the field and can advise accordingly. The artists teaching this year's masterclass series include Sommer Schoch, Wes Brown, Leann Perlowski, Maria McNeil, and Amanda Balltrip.
To learn more or to register, follow the link for the class you are interested in. To register for the combination package, please call (888)394-3282, ext. 0.
Details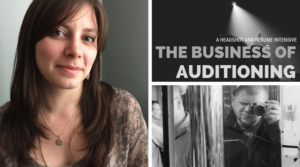 The Business of Auditioning: A Resume and Headshot Intensive
with Sommer Schoch and Wes Brown
June 9 & June 10, 2017
Cost: $70
​Prepare your resume and headshot for the audition process with this masterclass led by Director Sommer Schoch and featuring a mini headshot session by Wes Brown. You will learn what a director is really looking for on a resume, tips for the perfect headshot, and how your audition materials should showcase you at your next big audition.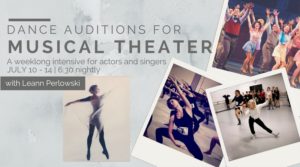 Dance Auditions for Musical Theatre
with Leann Perlowski
July 10-14, 2017 | 6:30 p.m. – 7:30 p.m. nightly
107 N. Main St. Somerset, Kentucky
Cost: $70
Get an overview of the dance audition process for musical theater with this week long dance intensive. You will focus on what it takes to have a successful audition, how to accentuate character and style, and will gain experience in picking up choreography in a fast-paced environment.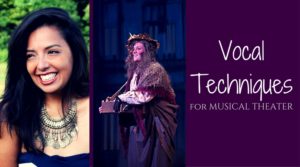 Vocal Techniques for Musical Theatre
with Maria McNeil and Amanda Balltrip
July 15, 2017
107 N. Main St. Somerset, Kentucky
Cost: $70
Learn what to expect when you are cast in a musical, from the basics of vocalizing as a stage ensemble to how you can maintain a character without compromising your vocal technique. Led by Maria McNeil, this masterclass will teach you what to expect when cast in a musical production from rehearsal to performance.
About the Artists
Sommer Schoch is the founder and Producing Artistic Director of Flashback Theater Co. She has sat in on auditions with various theater companies, and casts productions for Flashback Theater. She started in theater as a performer and knows firsthand the anxiety that comes with not being fully prepared for an audition.
Wes Brown is the owner and principal photographer at Wes Brown Photography. He specializes in capturing authentic moments and expressions. Visit his website at wesbrownphotography.com.
Leann Marie Perlowski is a Professional Dancer and Choreographer with a Bachelor of Arts in Dance from Butler University, Indianapolis Indiana. She has danced professionally Off-Broadway in New York City, Illinois and Kentucky, as well a toured with the Butler Ballet, the Illinois Youth Ballet and The Variety Society. One of Leann's favorite passions is teaching, which she has done extensively since 1979, both at Millikin University, Somerset Community College and private schools across New York, Illinois and Kentucky areas, as well as owning her own studio. Leann's background includes Choreography for the Lexington Musical Theatre, Theatre 7, Theatre Workshop of Owensboro, Owensboro Dance Theatre, The Variety Society,  Somerset Community Theatre, and various other original works and musicals. You can learn more about studying privately with Leann at her website www.atimetodance.info.
Maria McNeil is a graduate from the Chicago Academy for the Arts and holds a professional music degree from Berklee College of Music. She has performed her original music in Chicago, Boston and New York City. During her time on the east coast, she worked with various recording artists from around the world as a voice teacher and vocal coach. Former student, Raveis Kole, is now charting at 84 on the Billboard AC Top 100. Maria is the CEO and Artistic Director of McNeil Music Center located in downtown Somerset, Kentucky.  Learn more at www.mcneilmusiccenter.com.
Amanda Balltrip is a classically trained soprano with roots in musical theatre. She grew up as a local ensemble member with Jenny Wiley Theatre in Prestonsburg, where she learned by watching and working with professionals. This led her to study vocal performance and earn her Bachelor's and Master's degrees from the University of Kentucky. As a classical soprano, she has been recognized by the Metropolitan Opera National Council Auditions and is a member of the National Chorale in New York City. Recent credits include: Bird Woman in Mary Poppins (Lexington Theater Co.), rehearsal soprano soloist for Beethoven 9th at Lincoln Center (National Chorale), and Stacy in A Nightmare on Backstreet (Flashback Theater Co.)  Amanda currently serves as Director of Music Education at McNeil Music Center and offers private voice instruction. Learn more at www.amandaballtrip.com.