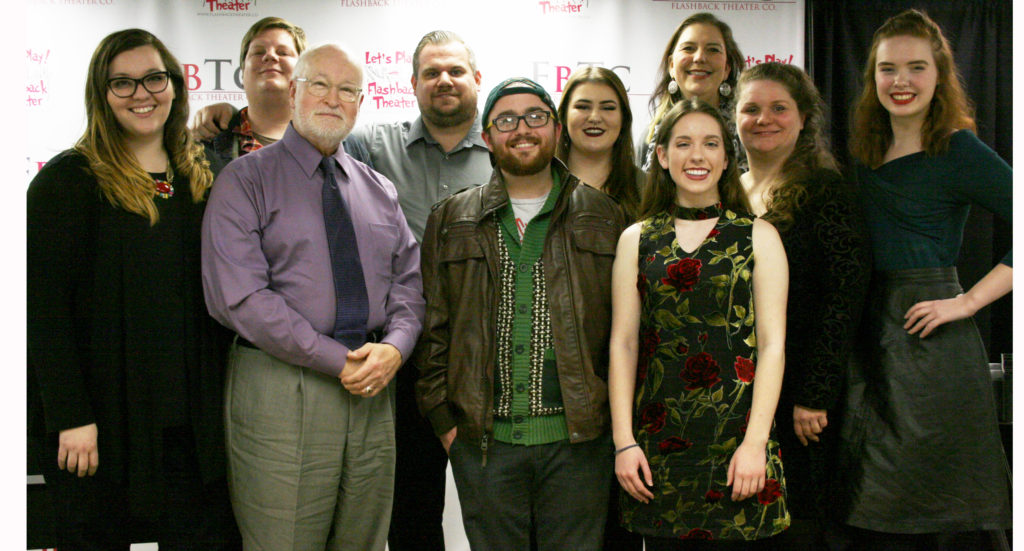 A strange and mysterious plant takes the stage this March. Flashback Theater Co. (FbTC) presents the cult-classic Little Shop of Horrors beginning March 1 and running through March 10 on the stage at SCC's Stoner Little Theatre. Adult tickets start at $12 in advance and can be purchased now at 400 E. Mount Vernon St. Somerset, Kentucky.
FbTC's Little Shop of Horrors opens on March 1 and will run for two weekends, closing on March 10. A total of six performances will be held. All seating for this production will be assigned at the time of ticket purchase. You can buy tickets now for the advance ticket price of $12 (or $8 for students). Tickets bought at the door will go up in price to $15 (or $12 for students). Please note a ticketing fee of $1 per ticket is also assessed at the time of purchase.
This live musical production features a cast and crew made up of theater talent from Somerset and the surrounding areas. Directed by Somerset native Ron Kidd, the show is influenced by the years Kidd spent pursuing a theater career in New York. McNeil Music Center's Amanda Balltrip is the music director, bringing her experience as a professional soprano and vocal teacher to the production.
The production will feature live music in this fully staged version of the movie, complete with 1960s-era costumes and a box set. The five-piece band makes this production stand out as one of the first musicals produced in the area with a live band.
The cast is comprised of a combination of new and familiar faces to the Somerset community. Joey Nortman, Lyndsey Pennington, and Renate Dopp star in the show as Seymour, Audrey, and the voice of Audrey II, respectively. The supporting characters of Mr. Mushnik and Dr. Orin are played by Brian Covert and Kyle Kadel. The ensemble of street urchins is made up by Theresa Jean Kibby, Alexandra George, and Emily Galloway. Tina George is the puppeteer for Audrey II.
Cast Bios
Joey Nortman plays Seymour, the well-meaning clerk who stumbles into a surprisingly easy career as a world-renowned botanist. Nortman is a Texas transplant, having arrived in Kentucky the week of Little Shop auditions. He has fifteen years of performance experience and loves his new home in Kentucky.
Lyndsey Jayne Pennington, a native of Stearns, plays opposite Seymour in the role of the very beautiful, but always taken advantage of, Audrey. Pennington is currently studying Vocal Performance and Musical Theatre at the University of Kentucky. Her recent performance credits include UK's recent productions of Little Shop of Horrors and She Kills Monsters.
The voice of Audrey II, the plant that has a mind of its own, is played by Renate Dopp. Dopp has been steadily building her performance and vocal resume over the past three years, starting with Flashback's annual Cabaret and McNeil Music Center's 2015 Winter Showcase and ending most recently with a solo recital. Her
Local visual artist and performer Brian Covert takes on the role of the florist proprietor, Mr. Mushnik. Covert was most recently seen in the McNeil Music Center's Winter Showcase but locals will also recognize his murals at Flashback Theater and Bray's Diner, or his painting classes at The Center for Rural Development.
Kyle Kadel is another new face to the Somerset performing arts. Playing the rock 'n roll dentist, Dr. Orin, Kadel is the Co-Curator of the newly opened Paranormal Museum at the Carnegie Community Arts Center.
Rounding out the cast is a group of street smart urchins played by Theresa Jean Kibby, Alexandra George, and Emily Galloway.
Kibby is a veteran of the Somerset stage, having been actively involved in SCC Theatre since 1993 and most recently seen in The Dining Room. Kibby has also acquired several vocal credits, including appearances at the Elgie Woods Piano Park and private recitals.
George and Galloway are both young performers in the area. George has previously performed with FbTC, Lake Cumberland Children's Theatre, the Star Theater, and SCC Theatre. Galloway has performance experience at her church and throughout middle and high school. An alum of the robust Somerset High School musicals, Galloway was most recently seen in The Wizard of Oz as Dorothy.
Box Office Information
Audiences can purchase their tickets online or in person at the Flashback Theater box office, located at 400 E. Mount Vernon St. in Somerset. Box office hours are Tuesday through Friday, 11:00 a.m. to 4:00 p.m. Phone orders can be made during box office hours at (888) 394-FBTC (3282). Leave a message after hours to get a call back when the box office reopens.
Performance Dates & Times
Thursday, March 1 at 7:30 p.m.
Friday, March 2 at 7:30 p.m.
Sunday, March 4 at 2:30 p.m.
Thursday, March 8 at 7:30 p.m.
Friday, March 9 at 7:30 p.m.
Saturday, March 10 at 7:30 p.m.
Select a date to purchase tickets.

Thanks to our Generous Sponsors and Funders:
Cornelia Dozier Cooper Endowment Fund