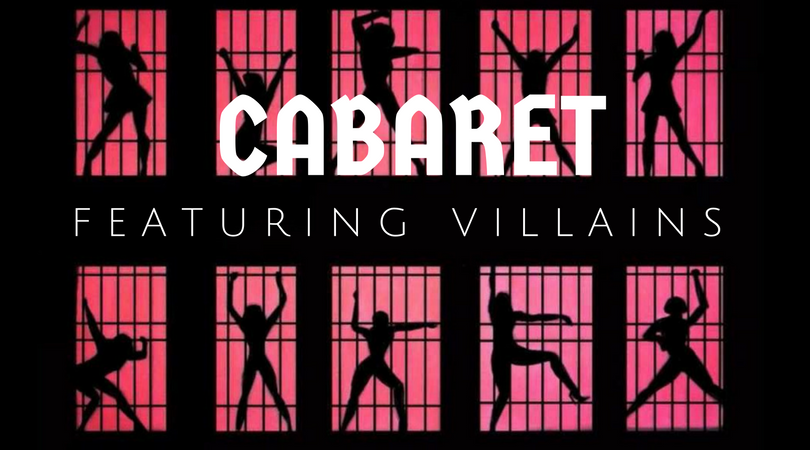 Flashback veterans and newcomers alike are taking on some devilish, dastardly, and flat-out evil characters at the 3rd annual Let's Play! Cabaret. Held on Saturday, April 8 at 7:00 p.m. at Science Hill School Auditorium, this year's cabaret features local performers of all ages performing songs and monologues from popular musical works as well as original works created specifically for the theme of "Villains."
The characters selected to be portrayed by the performers include the Witch from Into the Woods,  Fastrada from Pippin, Ursula from Disney's The Little Mermaid, the "Merry Murderesses" from Chicago, J.D. from Heathers, and Sweeney Todd from the musical of the same name. The lineup also includes original work written by the performers themselves.
Each act prepared their piece for an audition and, once selected, was given complimentary coaching time through FbTC's partnership with McNeil Music Center. The Cabaret is a part of our Let's Play! series, which encourages local performing talent by providing performing and learning opportunities throughout the year.
Between performers, audiences can expect exciting announcements about the upcoming Let's Play! season t0 be made throughout the evening. All donations received at the cabaret will go towards Let's Play! programming. A donation of $5-$10 is suggested for the event.
Musical lovers will recognize many of the numbers of the evening, and may be introduced to new favorites as well. The line up for the night is as follows:
Amber Frangos and Jade Ellis – "Spread a Little Sunshine" from the musical Pippin
Chris Harris – "I.B.A.A.D." an original monologe
Maxine Baughman – "Good Guy/Bad Guy" an original song
Bella Allison – "What a Wretched World" from The Wizard of Oz
Renny Yeager – "Forbidden Fruit" from The Apple Tree
Jessica Ingram – "Innocent? Is that supposed to be funny?" from Seven
Alexandra George – "Last Midnight" from Into the Woods
Renate Dopp – "Slipping" from Dr. Horrible's Sing Along Blog
Wynter Wilson – "The Best Teacher Villain Ever" an original monologue
Brandie Davis – "Poor Unfortunate Souls" from Disney's The Little Mermaid
Bryan Covert – "My Friends" from Sweeney Todd
Bailey Patterson – "Freeze Your Brain" from Heathers
Renny Yeager – "This is the Moment" from Jekyll and Hyde
Renate Dopp, Brandie Davis, Theresa Kibby, Alexandra George and Wesley England – "Cell Block Tango" from Chicago
Performance Details:
Saturday, April 8 at 7:00 p.m.
Science Hill School Auditorium
Free admission (suggested donation: $5-$10)
Light refreshments will be provided for the evening